Just six months have passed, and now a small expedition is setting out again to provide support aid for projects in Nepal, one of the poorest countries in the world. Once again, RVS honorary member Dr. Joachim Kühn accompanied them, and once again the destination was the Buddhist high-altitude monastery Serang Gompa with the affiliated Serang Basic School in the Manaslu Conservation Area on the border to Tibet.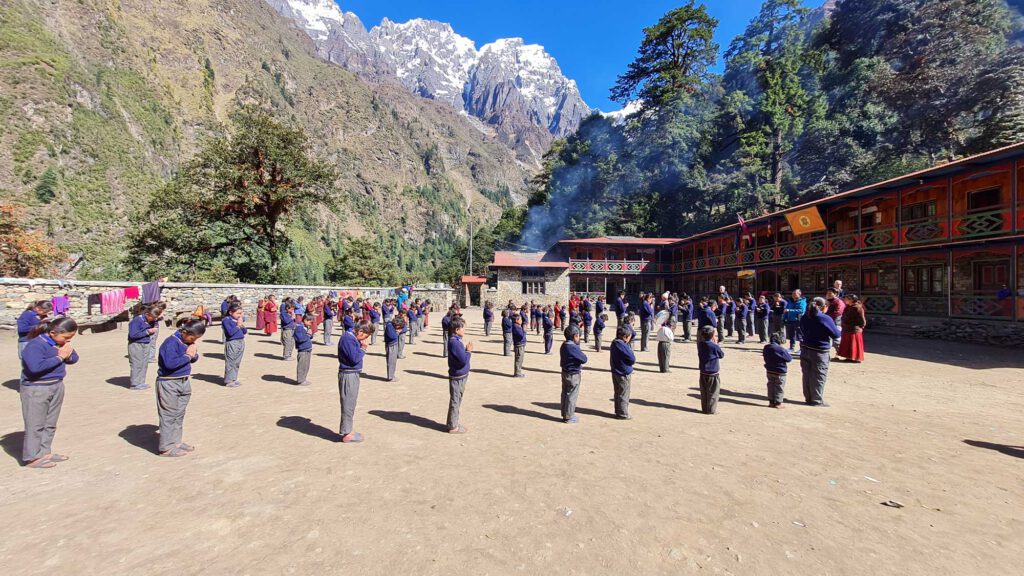 The route was basically the same as the last time: Flight to Kathmandu, followed by a quite comfortable first bus, then by another bus ride that was decidedly bumpy, and finally an adventurous trip by jeep to Machhakhola and then, finally, a journey on foot in several daily stages to the final destination at an altitude of 3,500 metres above sea level. The trek was, however, this time quite different: continuous rain at the end of September had triggered numerous landslides and the "road", if one can even call it that, was impassable in many places and it was left to our reliable guide Sangay to find safe routes to our destination.
Our own equipment was again reduced to a minimum, so that we would be able to transport as much as possible by way of material donations. The children's eagerness for physical movement and their enthusiasm for sports had already impressed us on our spring visit. My request to RVS President Christine Menzel to take the worn-out but intact green and black RVS tracksuits to Nepal as a clothing donation was granted without hesitation. In this way we were able to return the sportswear to its original purpose and to rescue it from a dreary existence in the RVS warehouse.
Our stay in the monastery and at the school was very impressive, as it had been in spring. Among other things, a wonderful festival was organised by the teachers and students. In the morning, the children performed Nepalese, Tibetan and English dances, and all donations we had brought were duly handed over to their grateful recipients. After a joint lunch, we witnessed an impressive sports festival, with football tournaments for boys and girls as well as athletics competitions according to the Nepali tradition. It was exciting to see how simple it was to transform a bumpy hard court into a track and field stadium for racing disciplines, while also complying with the specified curves on the stadium circuit track. Sensational! The enthusiasm of the children to run with new sportswear was really something to be seen!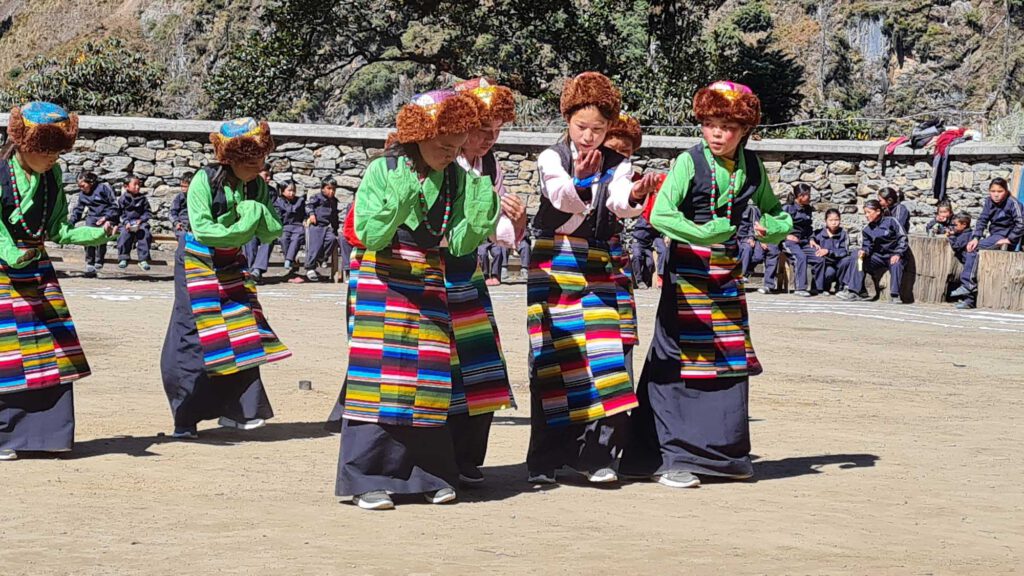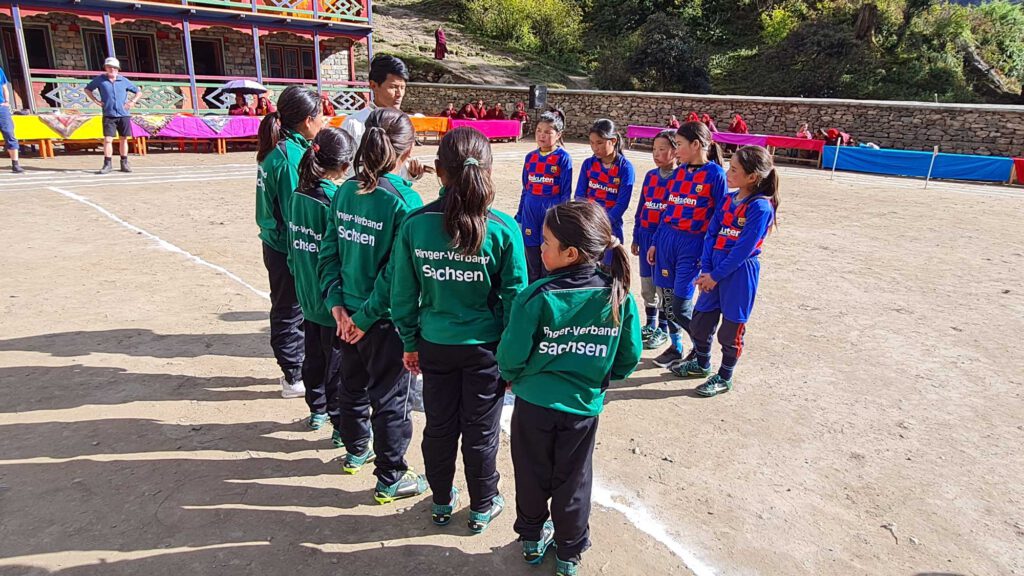 We experienced a very special moment in the morning before our ascent to the monastery. The sun was bathing Manaslu in a glistening light and transforming the eighth highest mountain on earth into a giant lump of gold. This natural spectacle lasted only a few minutes, but will remain in our memories for a long time. No less impressive, however, were the warmth, natural friendliness and hospitality with which the people in one of the poorest regions of the world welcomed us, as all expedition participants agreed.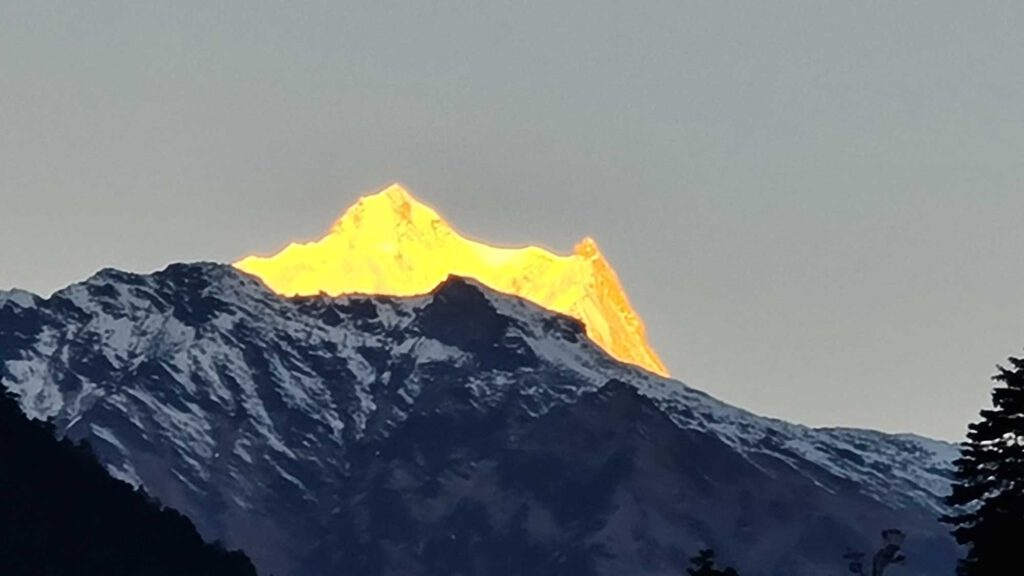 A big thank you to Dr Thomas Oehler, 1st Chairman of the non-profit organisation Human Care & Education e.V. (HCE), for his tireless commitment to realising the aid projects. Special thanks also go to monastery head Karma Rinpoche for his hospitality in the monastery, the head of Himalaya Tahr Trek (travel agency in Kathmandu), to Dawa Gyaltsen for travel support on site and not least to our two guides Sangay and Sonam. We are now bonded by friendship with all of them; and who knows, maybe there will be a third time …
For all our Saxon wrestling friends who feel like supporting this great project, we would like to point out that you can get more information on how you too can make a tangible contribution at http://human-care-education.com.